salam.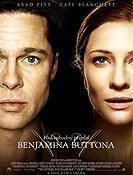 today, i felt a little bit alive than before. Last night i watch
Benjamin Button
starring the hot to throb,
Brad Pitt
and drop dead gojes,
Kate Blanchet
. Man, that movie really touched me. Sedih amat di pengakhirannya. Although, the movie is quite boring at the beginning but i still want to watch it. This Benjamin who is born to be old and then getting younger as he grown up. And i tell you, Brad Pitt is so not looking good when he's 80. Ooohh! so bad! Somehow, the movie gives some moral value that i can learn. It makes you think more in this movie because it's too abstract. Back to the hero, Mr. Bejamin. What a gentleman which i thought, i too can fall in love with him although he is waaaayyy to old than his age. Somehow i wonder, is there any more gentleman like Mr. Benjamin left in this world??? because i've to find one. haha! anyone???